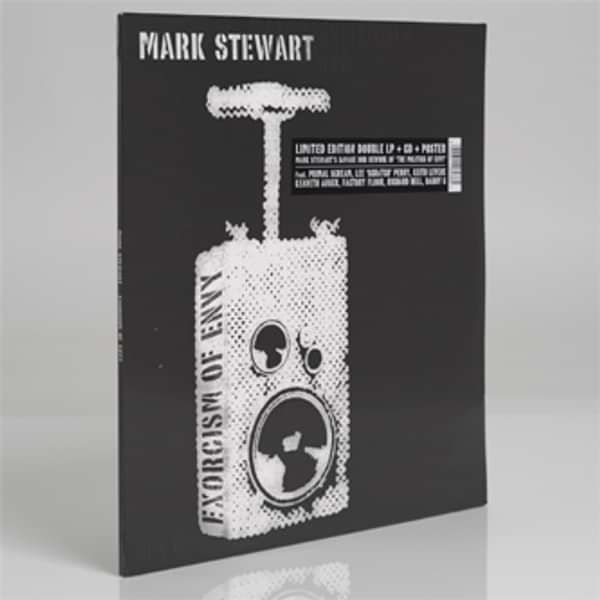 The Exorcism of Envy (Limited Edition 2LP + CD + Poster)
The Dub Reinterpration of 'The Politics of Envy' Featuring Kenneth Anger, Richard Hell, Primal Scream, Lee Perry, the Raincoats' Gina Birch, Slits bassist Tessa Pollitt, Massive Attack's Daddy G, Factory Floor, original PiL guitarist Keith Levene and former Jesus and Mary Chain bassist Douglas Hart.
"I've deconstructed in the tradition of dub. The original dub masters experimented and for me experimentation really matters, crashing in an index of possibilities. It's an expansion of my recent album, stripping it back to a skeletal dub and then burying it in bi-products of our hyper media." Mark Stewart
Limited Edition 2LP includes CD & artwork poster
*Please note, the remaining stock is unshrinkwrapped.
Tracklist
Side A
1. Babycino
2. Sexorcist (Featuring Factory Floor & Keith Levene)
3. Gustav Says Dub
Side B
1. Method To The Madness Dub
2. Codex Dub
3. Want Version (Featuring Factory Floor)
Side C
1. Mirror Wars (Featuring Lee 'Scratch' Perry & Xacute)
2. Letter (Full Of Tears) (Featuring Keith Levene)
3. Apocalypse Dub (Featuring Daddy G)
Side D
1. Attack Dogs (With Primal Scream)
2. Killswitch (Featuring Kenneth Anger & Richard Hell)